Singapore Taxi Tours for Pokémon Go Fans, Trainers and Master
Gotta Catch 'Em All?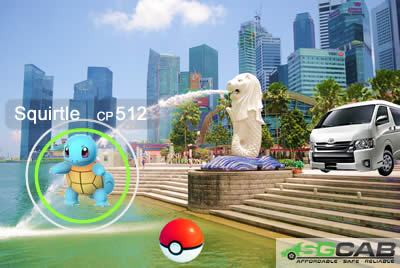 Why not catch a ride first that will take you to all the locations where you can find Squirtle, Bulbasaur, Charmander, and Pikachu? SG Cabs now brings Singapore Taxi Tours for Pokémon Go fans who want to become the best Pokémon Go trainers in the country and the world!
The Best Singapore Taxi Tours for Pokémon Go Fans Are Now Here!
So call your friends and book a date with SG Cabs as we take you to some of the best places in Singapore where you can catch plenty of Pokémon and go on sightseeing tours. Our taxi tours are available for groups of 7 and 9 people and offer enjoyable and convenient ways to explore Singapore and find Pokémon!
Singapore Taxi Tour Ride Sharing / Carpooling Facebook Group for individual who want to make more new friends or trainers to play Pokémon Go together.

Become a Pokémon Go Master in Singapore
With SG Cabs, your dreams of becoming the best Pokémon Go Master become a reality. Here is a quick look at the faraway places in Singapore where you take you for exploration:
Standpack Ind – Next to Singapore Highway Strip Pioneer, it is district that is devoted to industry where we make a pit stop while you explore for Pokémon.
Nirvana Memorial Garden – A hotspot for Pokémon, it is the first columbarium in the country that was privatized where you can pay respects to the departed.
Sungei Gedong Road – Here we will have a quick stop near the military camp en route to Lim Chu Kang.
Lim Chu Kang – You'll thank us later for bringing you to this new planned area after you catch some really cool mix of water, fire, and earth Pokémon.
Some other awesome destinations that we will cover where there's plenty to fish for while we return to downtown include:
Neo Tiew Crescent
Kranji Beach Battle Site
Kranji War Memorial
Singapore Night Safari
Big Squirt Stone Bench
Punggol Promenade
SAF Ferry Terminal
Tanah Merah Ferry Terminal
Animal Statue
W Singapore @ Sentosa Cove
Sunset Bay Restaurant
Pokémon Go PokéStop and Gym Location Map in Singapore


Benefits of Our Singapore Taxi Tours for Pokémon Go Fans
Explore Singapore in a whole new way and relive your childhood dreams of becoming a Pokémon trainer. Our tours cover all the major Pokémon hotspots in the country.
Take your time as you catch Pokémon on your smart phone. That's what the tours are for! Our drivers will wait while you catch the maximum number of Pokemon you can at different stops.
Bring your friends and family for group Pokémon Go tours that will make for some of the best memories and moments. We'll also be making stops if you want to grab a bite!
Let's Go!
The map says it all! Book our taxi tours today and roll back the years to when Ash entered the Pokémon master race. Only this time, you're Ash and you get to travel the country with your friends doing what you love!
Gotta Catch 'Em All? Hurry Up & Board Our Singapore Taxi Tours for Pokémon Go Fans!