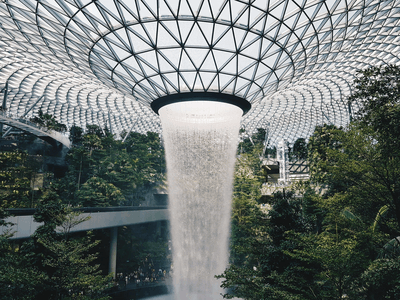 A Visitors Guide to Singapore's Jewel Changi Airport
Jewel Changi Airport Singapore: What Are its Features and Attractions?
The Jewel Changi Airport is more than just a landing and a taking-off place for airplanes. Tourists visit the site even if they do not have anything to do with the flights.
It has a lot of attractions, including gardens, aviation facilities, retail and dining halls, and even a hotel. The building is ten-story, covering an area of 135,700 square meters.
More About the Attractions in the Airport
Shiseido Forest Valley
The Shiseido Forest Valley is one fo the largest indoor gardens in Asia. It spans over five stories and covers an area of 22,000 square meters.  A paradise to the botanical life lovers, it has 120 species of high-altitude tropical plants from all around the world. The valley has more than 900 trees and palms and 60,000 shrubs.
The Rain Vortex
The Rain Vortex, the world's largest and tallest indoor waterfall, is also inside Jewel Changi Airport.  It is 40 meters high. The waterfall is mesmerizing to see at any time of the day, of course, but during the night, there is a light and sound show at its circular walls.
Fun Fact: CNBC held its first-ever Global Squawk Box in the Rain Vortex. In this show, the news media's global anchors from different headquarters in the world come together to discuss ongoing issues.
Canopy Park
You can do a lot of things in the 140000 square meters Canopy park. It has garden trails, Nets Attractions, glide down giant slides, Foggy Bowls, Hedge and Mirror Mazes, and many more. The entry fee is S$4.5 for Singapore residents and S$5 for other visitors.
You need to pay extra for experiencing each of the fun games.
Changi Experience Studio
The Changi Experience Studio almost feels like a trip to the future. They really have made one of a kind digital attraction with many amazing interactive games and shows teaching us quite a bit about aviation. Also, this experience studio will give you information about how the airport works.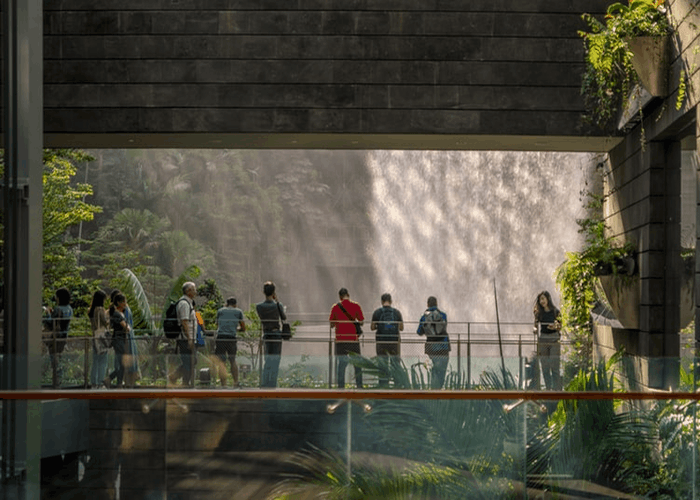 How to Get to the Jewel Changi Airport
Singapore is a very innovative place; you can easily find the airport in Google Maps.
Anyway, one thing we really need to tell you is that you should consider a vehicle reservation. You see, it is not only about getting to the place, but also returning to your hotel. There are approximately 300,000 visitors in a day in the Changi Airport; most of them will be hailing taxis, so it might be difficult for you to get one.
Also, even if Jewel Changi is an attraction, it still is an airport. So, you will see restless faces and need to experience all the hassle while boarding a vehicle in an airport.
As mostly families visit the Jewel Changi, we recommend that you rent a 13-seater minibus. It is comfortable, and when you make a reservation, as the driver will be waiting for you. This also gives you more time to have fun as you won't have to look for a taxi or such. You can contact us for more information.