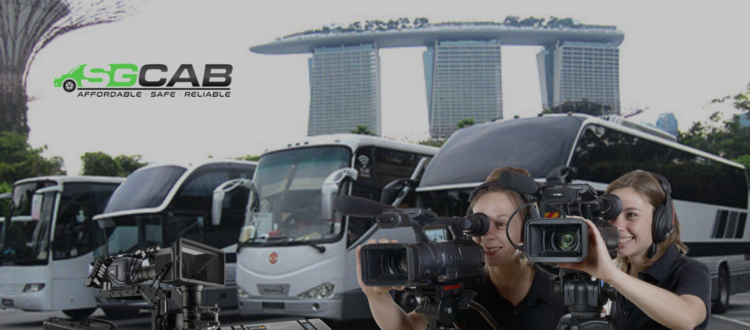 BUS CHARTER FOR FILM PRODUCTION CREW

WHY HIRE A BUS CHARTER FOR FILM PRODUCTION CREW?
SGCAB.COM Bus Charter Services understand how important time management is for film production or TV crew team. We always ensure and strive for our buses to arrive early for pick-up and only hire qualified drivers. Our wide range of buses can fit your film production crew transport needs. Book and charter our full-sized bus to carry all of your equipment and extras, or opt for a minibus to quickly get your directors and assistant directors to set. Our bus charter service team is available 24/7 at +65-9822-4405  to help you find the buses you need.
Bus Charter For Film Crew Members on Set
If you're planning to film in Singapore for a few hours, days, weeks, or months, SGCAB.COM Bus Charter can provide long-term shuttle services for your film production crew team. Actors and crew members usually don't want to walk or drive their own cars between parking lots, sets, trailers, and the catering area, and waiting on everyone to arrive at a new location wastes time that could be spent filming.
When you hire a minibus on a recurring basis, you know that everyone will arrive on set together, rested, and comfortable. Just call our long-term shuttle team at +65-9822-4405 or email us at info@sgcab.com 
Enjoy Comfortable Amenities Between Takes
Shoots can be exhausting. Help cast and crew members break up their 12-hour days with plush seats, air-conditioning, and WiFi on their charter bus while they travel from one location to another. You can even take advantage of the undercarriage luggage space to make storing equipment, costumes, and props a little easier. If you'd like to add more features or you're not sure which ones are best for you, one of our experienced reservation specialists will be happy to help.
Behind-the-Scenes Tours Bus Charter Arrangements
Our bus charter for film production crew can also help out studios that offer behind-the-scenes tours for visitors. If your tour includes multiple locations, we'll find a charter bus to move your guests between them without anyone getting lost or wandering into off-limit areas. You can even request a bus with panoramic windows so tourists don't have to disembark to see the actors and crew members at work.
If you're planning a one-time special tour or Tour companies that need a shuttle on a recurring basis can reach our long-term shuttle experts at +65-9822-4405
Advance Location Surveys And Recce Or Scout Team
SGCAB.COM bus charter for film production crew can also help you scout locations before you begin filming. We'll send a minibus to pick you and your teammates up at the airport and take you to the small towns, cities, suburbs, or places you need to scope out for your production. You won't have to deal with the stress of navigating unfamiliar roads, and you can request onboard WiFi and power outlets so your tablet, smartphone, or handheld camera won't die.
Service Cast Parties with a Private Bus
Whether you're arranging an official wrap party or a quick happy hour after a day of shooting, a bus charter for film production crew is one of the safest ways to take everyone out for the night. You won't have to worry about whether each person has a safe way to get home—your driver will serve as DD and take your actors and crew members back to their houses or hotels. In certain cities, you can even bring drinks on the bus, though you should let your reservation specialist know in advance if this is something you'd like to do.
Experience Exclusive Premiere Transportation
We don't only help with film production—we can help with what comes after, too. Next time you're planning a film premiere, call SGCAB.COM Bus Charter Services to arrange transportation to the red carpet for your actors and crew. It can be hard to find parking in downtown Singapore City, and you don't want anyone showing up late because they were circling the block. Rent a bus, and your driver will drop the cast and crew off close to the theater before finding a parking spot elsewhere.
Your team deserves to celebrate their accomplishments in comfort.
Getting Started
If you're looking to rent a bus but you're not sure where to begin?
If you're feeling overwhelmed by the variety of bus types to rent for your group?
Wondering about prices?
Contact us and receive your free, personalized quote.
Our reservation specialists are available 24/7 to help guide you through the rental process. Give us a call today at +65-9822-4405 for general inquiries or for long-term contracts to secure transportation for your movie production crew!